The Big Rocking Horse – Royal Spinel
Beautiful and elegant large-sized rocking horse
Royal Spinel is our large-sized rocking horse with a seat height of 53 cm, designed for children from three years of age. It is accurately shaped and hand-painted. It has a detachable leather saddle with stirrups and an upholstered seat as well as a leather harness. The horse is made of high quality pine wood. It is even able to carry an adult. The colour options correspond to the pigmentation of real horses. The colouring is carried out with colours certified for toys. In total, we offer six options of horse colouring (bay, white, black, chestnut, tan and Isabella). And three colour options of the saddle and harness (black, reddish-brown, and brown).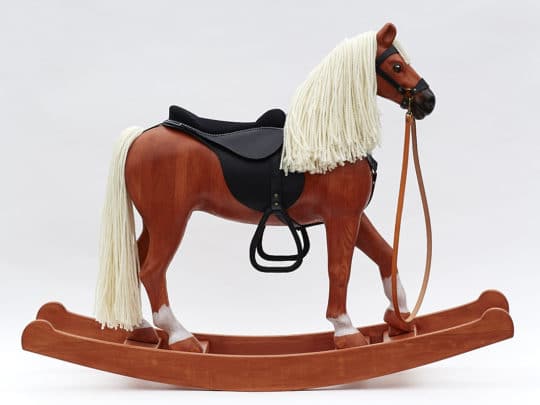 Our aim is to produce beautiful, elegant wooden items. The favourite colour option among our customers is the bay horse with a black saddle. For smaller children or simply those who do not want such a large-sized horse or do not want to spend quite so much, we have included the Amazing Ruby and the medium-sized Shining Spinel rocking horses in our offer.
Safety
It matters greatly to us that our products are safe and harmless. Wood is a harmless natural product. Man has used it from time immemorial and so it has been well-tested. The other materials have also been selected with respect to their safety and environmental friendliness. Colouring is performed with water-based non-toxic paints. Other safety requirements are for product stability and the elimination of accidental falls of children. Therefore, we have chosen a rocker shape that provides the smallest curvature at the end parts of the rockers. This slows down the rocking motion in the outer positions and reduces the risk of the horse falling over. The base of the rocking horse is adequately wide so that the horse cannot tip over sideways. Nevertheless adults should definitely not leave small children in particular unattended.
The product complies with strict European standards on the safety of toys, which we have had assessed by an independent certification authority – the Testing Institute for Light Industry in České Budějovice.
Quality and durability – a wooden item for several generations
Royal Spinel rocking horse is made of solid pine wood of the highest quality. In its manufacture, we have combined advanced machining technology and traditional wood work. The body of the rocking horse is made from several baulks glued together so that it would be resistant to shape deformations. Such deformations are caused by different degrees of expansion of wood in various directions. It can lead to cracks where individual wooden parts are too big. Making bigger parts by gluing several baulks together is one of the possibilities of how to prevent the occurrence of such cracks.
Individual wooden parts of the rocking horse have the massive mortise and tenon type joints without using any metal parts. Metal and wood are materials that differ in their character and so such joints can wobble loose, in particular when under mechanical stress. Therefore, we eliminated them in this largest rocking horse. The specific procedures and materials have allowed us to create a wooden toy that is remarkable for its quality and durability. Even an adult can rock on it.
Considering the frequency of usage, the most vulnerable parts of the horse seem to be its mane and tail. These can therefore be replaced with new ones, if required.
Tradition – certified materials, verified manufacturing methods, a certified toy
We have made efforts to create a rocking horse that builds on the tradition of our parents and grandparents. This is one of the reasons why we focus on natural materials in our production – wood, 100% wool yarn for the mane and tail, and natural leather for the saddle and harness. Saddles and harnesses are made by a saddler from Moravian Wallachia. Our rocking horse is thus continuing the series of unique wooden toys that have been popular for centuries. One of the predecessors of the current rocking horses was already produced in the 17th century in the United Kingdom (Museum of Childhood, Moving Toys Gallery). Later it became a favourite toy in the United States. Subsequently it spread all over Europe and elsewhere in the world. It is not unusual to find an old rocking horse somewhere in the attic. We ourselves have one such rocking horse.
Every rocking horse is unique
Each of our rocking horses is unique. This is due to the large amount of manual work that goes into completing the product. And due to the features of wood as the used material. The manual finishing work on a product includes grinding, which determines its final shape and of course painting. In manual colouring / painting, the base colour is applied first then the eyes and all the typical features that can be found in real horses are painted. Wood as the applied material underlines the uniqueness of every horse. It is because the appearance and grain of the wood varies due to its structure and the numerous factors influencing the growth of a tree. We use paints that leave the wood grain visible. So the grain then becomes part of the final appearance of the rocking horse.
Bringing joy to children
You can have the Royal Spinel as a decorative item in your home or elsewhere. For example in restaurants, hotels or simply anywhere. But the biggest joy it can bring is to children of the appropriate age, be they your own children or the children of your nearest and dearest. Our rocking horses can bring happiness to girls and boys alike as we discovered at the various events where we exhibited and sold our horses. And on the basis of both our own experience and that of our customers. Royal Spinel rocking horse is thus a truly great Christmas or birthday gift for children. It is also in demand as a christening gift, although in this case it must then wait for the child to grow into it.
The specific procedures and materials have allowed us to create a rocking horse that is remarkable both for its quality and durability. We hope we have managed to create a unique rocking horse that will attract your attention and will serve you and your children as a toy and home accessory. Or perhaps it will be a valuable gift for your loved ones.
You can order Royal Spinel at our
E-shop
or at the e-mail address
info@woodenrockinghorse.eu
.